Vov Alpha Blend 1.1 Details
---
Publisher Description

Merge two images with transparency. Alpha blending (alpha compositing) is the process of combining an image with a background image to create the appearance of partial or full transparency. It is often useful to render image elements in separate passes, and then combine the resulting multiple 2D images into a single, final image called the composite. Vov Alpha Blend applies this process to two images and generates a new image file.
Download and use it now: Vov Alpha Blend
Related Programs
Alpha Clipboard is a lightweight, handy and convenient solution to expand your Windows clipboard from one to twenty five items. Its also an excellent screen capture application which allows you to size and crop your screen shots as well as...
---
Journal Pro lets anyone keep a private journal, diary or log for personal or business use, but that's not all... Entries are stored in an encrypted file with optional password protection and can contain formatted text, pictures, sounds and even...
---
Screenshot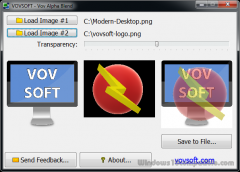 ---
---
Details
Follow us:
Size:

1.55 MB

License

Freeware

Cost

$0

Operating Systems

Windows 10

Release date

08 May 2018

Publisher VOVSOFT
---
Top Downloads (last week)
Keywords